SUPERCHARGE YOUR JOURNEY
As the manufacturer of the only supercharged sport tourer models on the market†, Kawasaki is happy to announce the arrival of a second variation of the Ninja H2 SX. Complementing the Ninja H2 SX SE, the all-new Ninja H2 SX SE+ offers advanced electronic suspension and a host of other equipment that make it the most advanced model of the lineup. This showcase of Kawasaki technology is sure to please riders in search of high grade equipment along with the thrill of supercharged acceleration. † As of September 2018 (per Kawasaki market research)
SUPERB FUEL EFFICIENCY
The Ninja H2 SX SE+'s superb fuel efficiency represents a significant increase over the supercharged engine of the Ninja H2, and is on par with that of the Ninja 1000 and Versys 1000. Combined with its 19 litre fuel tank, this gives the Ninja H2 SX SE a substantial cruising range.

SPORTS TOURING PERFORMANCE
Complementing the everyday usability and supercharged acceleration of the highly efficient Balanced Supercharged Engine, the Ninja H2 SX SE+ offers reassuring stability at highway speed, superb ride comfort, numerous convenience features and a host of sport tourer equipment ensuring that it is the mightiest sport tourer on the market.

FULL-FAIRING: SPORTINESS AND WIND PROTECTION
Full-fairing bodywork contributes to both wind protection and the Ninja H2 SX SE+'s sporty looks. The full fairing was possible thanks to the highly efficient engine, which gives off significantly less heat than that of the high-performance Ninja H2. The bodywork strategically shields the rider without being too large, balancing rider comfort and aerodynamics, a large windscreen further protects the rider from wind-blast, offering even greater touring comfort.

TRELLIS FRAME: PASSENGER & PANNIER STANDARD
The Ninja H2 SX SE+ features an innovative trellis frame like the Ninja H2, but to be able to accommodate a passenger and luggage, the frame needed to be completely redesigned. Its 195 kg payload is comparable to that of the Ninja 1000. And increased rigidity and a longer wheelbase deliver the stability for riding at highway speed with panniers, while a 30° steering angle facilitates low-speed manoeuvres.

KCMF (KAWASAKI CORNERING MANAGEMENT FUNCTION): IMU-EQUIPPED TOTAL ENGINE & CHASSIS MANAGEMENT PACKAGE)
Using the latest evolution of Kawasaki's advanced modelling software and feedback from a compact Bosch IMU (Inertial Measurement Unit) that gives an even clearer real-time picture of chassis orientation, KCMF monitors engine and chassis parameters throughout the corner - from entry, through the apex, to corner exit - modulating brake force and engine power to facilitate smooth transition from acceleration to braking and back again, and to assist riders in tracing their intended line through the corner. On the Ninja H2 SX SE+, KCMF oversees the following systems: KTRC (including traction and wheel lift control), KLCM, KIBS (including pitching and corner braking control) and Kawasaki Engine Brake Control.

FRONT SUSPENSION
Based on the semi-active system that debuted on the 2018 Ninja ZX-10R SE, KECS adapts to road and riding conditions in real time, providing the ideal amount of damping called for. Combining high-level mechanical components with the latest electronic control technology, KECS offers both the suppleness to handle a wide range of riding situations, as well as the firm damping to facilitate sport riding. The tyres feel planted, delivering confidence when cornering.

KECS REAR SUSPENSION
At the rear a high-spec BFRC lite rear shock - the same rear suspension used on the Ninja ZX-10R SE except it also features electronically adjustable preload. Base damping character is set according to the integrated Riding Mode (Sport, Road, Rain, Rider (manual)) selected. KECS then adjusts to the road surface environment in real time to provide the ideal damping, taking into account vehicle speed, stroke speed and deceleration. With KECS, the rear preload is also electronically adjustable - a first for Kawasaki. Riders can choose from three payload modes (each with +5/-5 adjustment): - Rider only, - Rider with luggage, - Rider with passenger and luggage. Settings can be fine-tuned while riding with a rear spring preload adjustment button on the left handlebar switches.

ELECTRONIC CRUISE CONTROL
Kawasaki's latest cruise control system allows a desired speed to be maintained with the simple press of a button. Once activated, the rider does not have to constantly control the throttle. This reduces stress on the right hand when traveling long distances, enabling relaxed cruising and contributing to a high level of riding comfort. Operation of the Electronic Cruise Control is conveniently from the left handle. The system can be engaged with the touch of a button.

HIGH-CLASS INSTRUMENTATION
The Ninja H2 SX SE+'s advanced, high-tech instrumentation contributes to the high-class appearance of the cockpit. The analogue style tachometer is complemented by a high-grade full colour TFT LCD screen that enables information to be displayed graphically. Four selectable display modes allow riders to prioritise the information they want to see depending on the kind of riding they are doing at the time. The instrumentation design combines a full digital LCD screen with an analogue-style tachometer. High-grade full colour display features TFT (thin-film transistor) technology, delivering a high level of visibility. The screen's background colour is selectable (black or white), and screen brightness adjusts automatically to suit available light. Display functions include: digital speedometer, gear position indicator, fuel gauge, odometer, dual trip meters, current and average fuel consumption, remaining range, bank angle display and max bank angle recording function, average speed, total time, coolant temperature, boost indicator, boost (intake air chamber) temperature, outside temperature, ice warning, clock, battery voltage, and Economical Riding Indicator.

SMARTPHONE CONNECTIVITY
A Bluetooth chip built into the instrument panel enables riders to connect to their motorcycle wirelessly. Using the smartphone application "RIDEOLOGY THE APP," a number of instrument functions can be accessed, contributing to an enhanced motorcycling experience. A number of functions are available: - Vehicle Info: information such as fuel gauge, odometer, maintenance schedule, etc can be viewed via the smartphone. - Riding Log: GPS route information as well as vehicle running information can be logged and viewed via the smartphone. - Telephone notices: when a call or mail is received by the smartphone, this is indicated on the instrument display. - General Settings: general instrument display settings (such as preferred units, date, date format, etc) can be adjusted via the smartphone. - Vehicle Settings: Riding Mode (Road, Sport, Rain, Rider) can be set in advance on the smartphone and uploaded when in proximity of the bike, as can riding support systems (like Kawasaki Engine Brake Control and KQS) and the payload mode.

INTEGRATED RIDING MODES
Sport, Road, Rain, and Rider (manual) are all-inclusive modes that link KTRC, Power Mode and KECS allow riders to efficiently set traction control, power delivery and suspension character to suit a given riding situation. Riders can choose from three settings (Sport, Road, Rain) or a manual setting (Rider). In the manual Rider mode, each of the systems can be set independently. - Sport: enables riders to enjoy sporty riding on winding roads. - Road: offers comfortable riding over a wide range of situations, from city riding to highway cruising and rural roads. - Rain: offers rider reassurance when riding on a wet road surface. The riding mode can be changed while riding, using the button at the left handle.

HIGHLY DURABLE PAINT
Kawasaki's new Highly Durable Paint features a special coat that allows scratches to repair themselves, enabling the paint to maintain its high-quality finish†Â .Soft and hard segments in the coat work together like a chemical spring, creating a trampoline effect that absorbs impacts.
†Notes: 1. In some cases, it takes more than one week for recovery. 2. The paint will not recover in the case of scratches caused by a coin or key, or zip fasteners. Highly Durable Paint Kawasaki's new Highly Durable Paint features a special coat that allows scratches to repair themselves, enabling the paint to maintain its high-quality finish†Â .

BRAKES & WHEELS
The new Brembo Stylema calipers have less volume around the pistons and brake pads. This reduces the internal space taken up by brake fluid, enabling a more direct response. The Brembo Stylema calipers are also lighter, with smaller external dimensions that also enable shorter mounting bolts. A redesign of key sections allows stiffness to be maintained while enabling a more direct connection to the piston area. Stylema calipers cool very rapidly thanks to increased airflow around the brake pads, increased space around the pistons, and an opening that allows air to exit from the central bridge.

KIBS (KAWASAKI INTELLIGENT ANTI-LOCK BRAKE SYSTEM)
Kawasaki's supersport grade high-precision brake management system is standard equipment on the Ninja H2 SX. This is the same base system used on the Ninja H2 and Ninja ZX-10R, with programming and settings revised to suit the street performance parameters of the Ninja H2 SX SE.

KQS (KAWASAKI QUICK SHIFTER)
Dual-direction quick shifter allows both clutchless upshifts and downshifts. Designed for effective sport riding, street optimised settings enable operation at rpm above 2,500 rpm.

HYDRAULIC ASSIST & SLIPPER CLUTCH
A high-quality hydraulic clutch offers less maintenance, ensuring the initial touch condition can be maintained. And the lighter lever operation thanks to the clutch's assist function contributes to reduced rider fatigue when street riding. Assist & Slipper Clutch uses two types of cams: an assist cam and a slipper cam, offering two functions not available on a standard clutch. When the engine is driving the rear wheel the assist cam functions as a self-servo mechanism, pulling the clutch hub and operating plate together to compress the clutch plates. This allows the total clutch spring load to be reduced, resulting in a lighter clutch lever pull when operating the clutch.

DOG-RING TRANSMISSION
Like the Ninja H2, the Ninja H2 SX SE features a dog-ring type transmission. The kind of transmission commonly found in MotoGP or Formula 1, it facilitates smooth, quick shifting. Gear ratios were optimised for a sport tourer. A longer primary gear ratio contributes to the Balanced Supercharged Engine's superb fuel efficiency while helping to reduce the load of its even greater torque on the transmission gears. 1st and 2nd gears are also longer, contributing to easier engine manageability in everyday riding situations. Transmission oil jets (first used in a Kawasaki motorcycle on the 2015 Ninja H2/H2R) enable a compact transmission with high durability.

CLEAN-MOUNT PANNIER SYSTEM
The mounting system for the standard Give panniers allows the panniers to be attached and removed very simply, contributing to increased convenience. Seamlessly integrating the panniers with the rear of the bike, the clean mount system positions the panniers close to the bike centreline, and, thanks to its clean clutter-free design, ensures the rear of the bike still looks good with the panniers removed. High-speed testing on Germany's Autobahn ensures stable operation with panniers fitted.

AGGRESSIVE STYLING
As the world's only supercharged sport tourer, the Ninja H2 SX SE+ needed to look the part. Blending aggressive Kawasaki styling that exudes an air of performance, with high-class touches and an exquisite attention to detail, the Ninja H2 SX SE+'s arresting design sets it apart, declaring to all that it is a class of its own.

SEATS DESIGNED FOR COMFORT
Both the front and rear seats deliver the comfort you would expect of a sport tourer. In fact, two front seats were designed: a Comfort Seat that offers a relaxed knee bend and thicker urethane cushioning; and a Low Seat (15 mm lower) that prioritises an easy reach to the ground. The rear seat, wider and flatter than on the Ninja 1000, ensures pillion comfort.

NINJA H2 SX SE+ ACCESSORIES
Low Seat (820 mm), Grip Warmers, Frame Slider Kit, Pannier Inner Bags set and Protection Kit For Panniers
SPORT TOURING PERFORMANCE
Complementing the everyday usability and supercharged acceleration of the highly efficient Balanced Supercharged Engine, the Ninja H2 SX SE+ offers reassuring stability at highway speed, superb ride comfort, numerous convenience features and a host of new features for the sport tourer equipment ensuring that it is the mightiest sport tourer on the market.
Electronic Cruise Control
IMU Electronic Controls 3-way KTRC, KCMF, KLCM, KIBS and KEBC
New KECS Kawasaki Electronic Control Suspension
New Bluetooth connection for the high quality TFT full colour instrumentation
New Rideology the App for smartphones
New Brembo Sylema front calipers
New Riding Modes
New Highly Durable Paint
Relaxed, sporty riding position
Seats designed for high comfort
Clean Mount Pannier System
Standard 28l Givi Panniers
LED cornering lights
LED headlight, taillight, turn signals, number plate light
KQS (Kawasaki Quick Shifter,) dual direction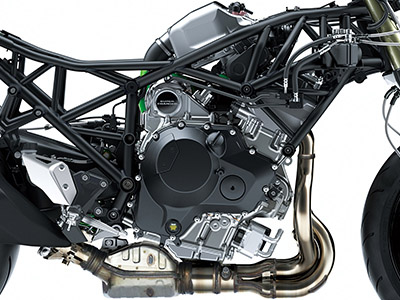 STREET FOCUSED SUPERCHARGED ENGINE
Designed to offer both power and fuel efficiency, the Balanced Supercharged Engine delivers a maximum power of 200 PS. But a mission to offer everyday usability in street-riding situations rather than outright performance meant that tuning could focus on the low to mid range, helping to achieve the engine's superb fuel efficiency. The result is a versatile engine character that enables relaxed long-distance riding, easy manageability at slow speeds, and - when called upon - the exhilarating acceleration that only a supercharged engine can deliver.
| | |
| --- | --- |
| Model | NINJA H2 SX SE+ (ZX1002DKF) |
| Engine Type | Liquid-cooled, 4-stroke In-Line Four |
| Displacement | 998cm³ |
| Bore and Stroke | 76.0 x 55.0 mm |
| Compression ratio | 11.2:1 |
| Valve system | DOHC 16 valve |
| Fuel system | Fuel injection: ø40 mm x 4 with dual injection |
| Intake System | Kawasaki Supercharger |
| Ignition | Digital |
| Starting | Electric |
| Transmission | 6-speed, return, dog-ring, dual direction quick shifter |
| Clutch | Wet Multi-disc (A&S clutch) hydraulic operation |
| Frame | Trellis, high-tensile steel, with Swingarm Mounting Plate |
| Wheel travel - front | 120 mm |
| Wheel travel - rear | 139 mm |
| Tyre Size-front | 120/70ZR17 (58W) |
| Tyre Size-rear | 190/55ZR17M/C (75W) |
| Suspension - front | 43 mm diameter inverted fork with KECS-controlled compression and rebound damping, manual spring preload adjustability, and top-out springs |
| Suspension - rear | New Uni-Trak, gas-charged shock with piggyback reservoir, KECS-controlled compression and rebound damping, electronic spring preload adjustability, and top-out spring |
| Brakes - front | Dual semi-floating 320 mm discs, Dual radial-mount Brembo Stylema monobloc, opposed 4-piston calipers, ABS |
| Brakes - rear | Single ø250 mm disc, opposed 2-piston caliper, ABS |
| L x W x H | 2,135 x 775 x 1,260 mm |
| Wheelbase | 1,480 mm |
| Ground clearance | 130 mm |
| Seat height | 835 mm |
| Fuel capacity | 19 litres |
| Curb mass | 262 kg |
| Max Power | 147.1 kW {200 PS} / 11,000 rpm |
| Max Power with Ram Air | 154.1 kW {210 PS} / 11,000 rpm |
| Max Torque | 137.3 N.m {14.0 kgf.m} / 9,500 rpm |
| Colour | Metallic Graphite Gray with Metallic Diablo Black and Emerald Blazed Green |
| Warranty | 24 Months Unlimited Kilometres |